Regal Electronics Adds Metal Body PCB Mount Dual-Stack BNC Connector to Its Product Line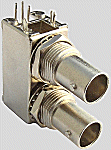 Sunnyvale, CA – Regal Electronics has added a new metal body dual-stack BNC connector to its connector line.  The new connector combines the space saving efficiency of a stacked design with the proven reliability of the time-tested BNC configuration.  The twisting snap-lock design of the BNC connector has made it a consistent favorite for applications such as test equipment, radio frequency patch panels, and lab instrumentation where a strong and reliable physical connection is important.
The new Regal BNC 31202-HM Series connector has a metal body for strength and shielding and is available with an impedance of either 50 or 75 ohms.  The connector is configured for easy through-hole PCB mounting with snap-in metal ears that can also be soldered for added mounting strength and circuit connectivity.
About Regal Electronics, Inc.
Since 1976, Regal has manufactured quality electronic components, speakers, connectors, transformers, power supplies , and a wide variety of related products and services from its operations in the United States, China and Taiwan.  Engineering support for Regal Electronics, Inc. line of products is located at its Sunnyvale, California, headquarters.