Regal Electronics Announces Updated White Paper
"How to Solve Emission Problems with EMI/RFI Suppressing Connectors"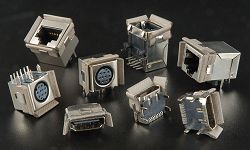 Sunnyvale, CA — Regal Electronics has announced an update to its popular white paper "How to Solve Emission Problems with EMI/RFI Suppressing Connectors."   With current clock frequencies and processors running from a few hundred megahertz to several gigahertz, data transmission rates in excess of 622 Mbits/s, and video circuits with pixel rates in the sub-nanosecond range, electromagnetic compatibility (EMC) is harder to achieve today than ever before.  According to Regal CEO Madeleine Lee, "Higher and higher processing speeds present never-ending engineering challenges, particularly with RF interference.  Regal's updated white paper addresses typical causes of RF interference brought on by these ever-increasing processing speeds and what engineers and designers can do about them."
The white paper is available for free on Regal's Web site.
Regal offers a complete line of EMI/RFI noise suppression RJ-45, mini-din, and HDMI connectors, micro and miniature speakers, and related components and accessories.  Regal's "Quick Ship" program, in by 4:00 out the same day, is available for prototype applications, including Regal's EMI/RFI noise suppression connectors .
About Regal Electronics, Inc.
Since 1976, Regal has manufactured quality electronic components, speakers, connectors, and a wide variety of related products and services from its operations in the United States, China and Taiwan.  Engineering testing and support for Regal Electronics, Inc. line of products is located at its Sunnyvale, California, headquarters.  Low to mid-range quantity orders are welcome.